Pato LoverBoy in trouble after King Jah Fire lunches full-scale removal of Obinen concert posters from the street of Kitgum town.
---
Editor:Ocen Lacor | September 2023-07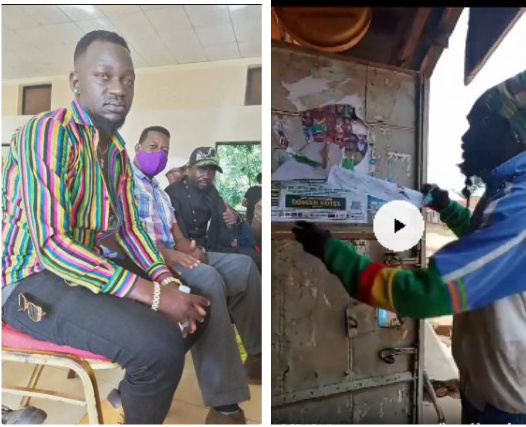 Singer Okello Patrick best known as Pato LoverBoy has been facing depression and anxiety in the last two days after the most feared guy from Kitgum Lunches campaigned against him and on his coming concert tagged 'Obinen concert' which is set to happen on Saturday 9th, September.
This all started after the self-proclaimed Kings of Rasta Farian and a clan chief Rwot Aloo who is also a musician missed a stage performance at the Pato LoverBoy Obinen concert that happened last Saturday at Acholi in Gulu. Rwot Aloo who is known as King Jahfire yesterday launched a full-scale campaign against his fellow singer Pato LoverBoy and his Kitgum Obinen concert.
King Jah fire accusing Pato LoverBoy of disrespecting him, said Pato LoverBoy made him to travel all the way from Kitgum to Gulu and made him miss the stage performance.
After two days of the Acholi Inn Obinen concert, different video clips started emerging on social media showing King Jah fire tearing and burning Pato LoverBoy Obinen Kitgum concert poster from the street.
After we contacted Pato, he said he didn't know King jah fire come to Gulu for the Obinen concert because King jah fire was in the performance lists of the Kitgum Obinen concert not the one of Gulu. Even the Gulu poster he is not on it as he claims.
"I didn't know he came to Gulu for the Obinen concert, because he is in a Kitgum lineup, He would have let me know that he was around and I would have fixed him in the performance lineup."..... Pato LoverBoy
"Obinen Concert, this one is a straight message to Pato LoverBoy. For those who don't know me, I'm King Jah Fire Rwot Alo. I want to talk about the Obinen Concert.Pato LoverBoy used my picture, and name to advertise for the concert but guess what, on Friday I boarded a bus from Kitgum I went to Gulu but Pato LoverBoy did not make me perform. Pato LoverBoy watch out you can't put my picture on your poster and I don't perform. I have been a musician for 29 years, you have just sung for 13 years and I want to show you that I will not be part of this concert and you watch out. You stop exploiting the Artists." ... Said King jah Fire in one of the video clips while burning Pato LoverBoy Poster.
This is not the first time King Jah Fire, has torn and burned posters, during the 2021 campaign, he has been seen in a video tearing and burning Bobi wine campaign posters.
Will King Jah Fire's campaign against Pato LoverBoy going to affect Kitgum Obinen's concert?
See Full Video: King Jah fire tearing and burning Pato LoverBoy Obinen concert poster.
Pato LoverBoy reaction to King Jah fire against him.